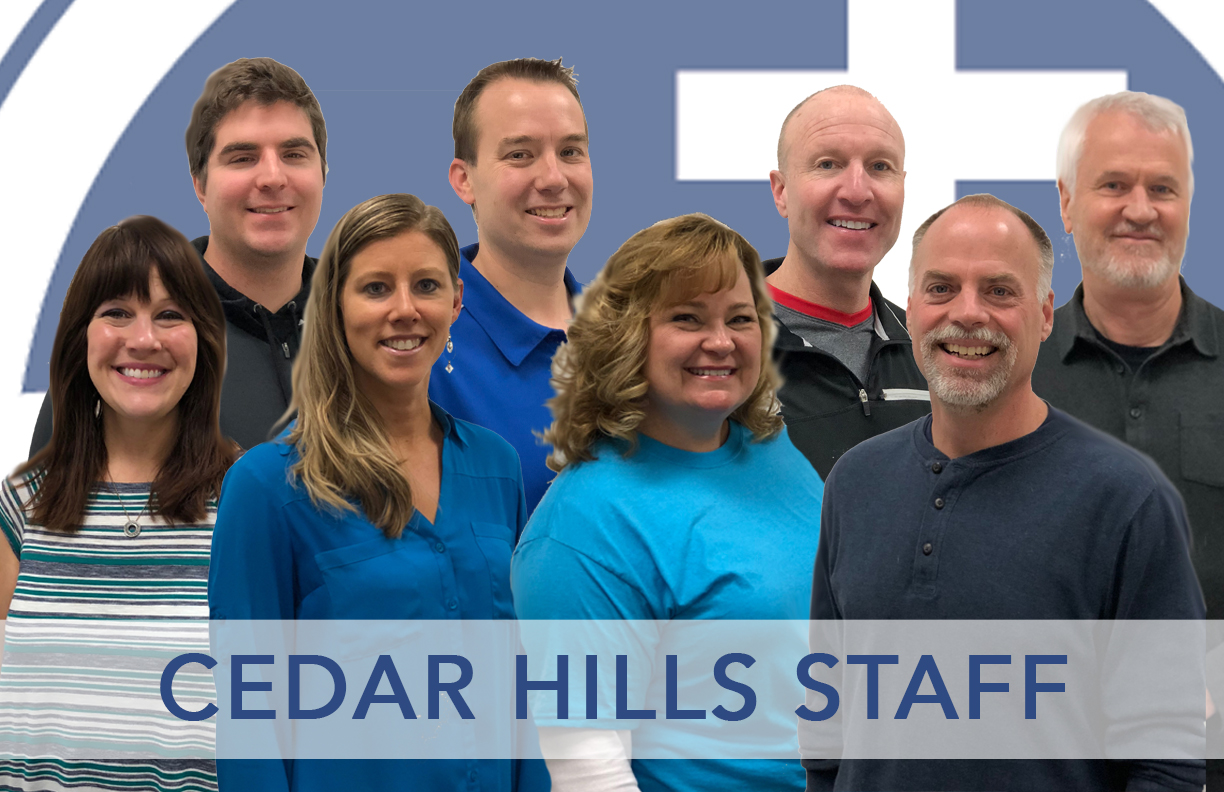 Kent Landhuis
Pastor of Preaching and Leadership
Contact
Kent grew up on the east side of Des Moines. He graduated from Iowa State University. Kent then attended seminary at Trinity Divinity School. His first full-time job was as an Associate Pastor in Michigan before coming to serve as Pastor of Cedar Hills in 1995. He is married to his wife, Mary, and he has three children. Pastor Kent loves to jog, read and dig in the dirt. Passionate about preaching and leadership, Pastor Kent considers it his call to proclaim the Good News of God's love to all who will listen.

Alan Crandall
Pastor of Care and Visitation
Contact
Alan and his wife Jan have been following Jesus together for nearly 50 years, serving churches in Arizona, California, and Colorado.  They've led mission trips in three dozen countries.  They moved to Iowa in 1997 to do campus ministry at the University of Dubuque.  Alan joined the pastoral staff of Cedar Hills in 2014.  Married since 1971, they home-schooled three sons and are sinfully proud of their 20 "cran-kids."  Jan is a nutritionist and enjoys setting a delicious table for family gatherings and friendly celebrations.  Her leisure activities include working out at the gym.  Alan completed his doctor of ministry at San Francisco Presbyterian Seminary.  He likes to teach evangelical theology and build Christ-loving communities of faith.  He's a confirmed jogger and banjo player. 

Jeremy Van Genderen
Director of Youth & Young Adults
Contact

Jeremy was born into a Hawkeye loving rural family in central Iowa. In 2002, he graduated from Northwestern College in Orange City, Iowa with a B.A. in Religion. He has been in youth ministry for the last 9 1/2 years and has loved every minute of it. He enjoys teaming up with parents to help them guide their students spiritually.Jeremy has a wonderful wife, Jeanette and 3 amazing children—Breanne, Kara and Benjamin. As a family, they enjoy walking, riding bikes and playing at the park. During the cold winter months, they enjoy being with friends, playing board games or the Wii. Jeremy's goal is to live out 1 Peter 2:2 so that others will learn to crave God's word!

Paul Donnan
Director of Maintenance and Operations
Contact
Paul grew up in Cedar Rapids. He began working for the church in 2003. Prior to that he was a Detective on the Los Angeles County Sheriff's Department. His parents, Sally and Doug, joined Cedar Hills Community Church in 1961.When not spending time with his two boys or at church, he enjoys the outdoors, baseball, and gardening. He is passionate about the commandment "Love your neighbor." His favorite Bible verses are those that declare and describe Heaven.


Kyle French
Director of Family & Children Ministry
Welcome Kyle French! Kyle joined the Cedar Hills staff in February 2018.

Jennifer Wagaman
Office Administrator
Contact
Jennifer grew up in Winona, MN and Fountain City, WI. She attended Luther College in Decorah, IA majoring in Music Performance and Music Management. Jennifer went on to attend University of Northern Iowa for her Master of Music degree in flute performance. Jennifer moved to Cedar Rapids is 2006 with her husband, Jon. A couple years later, a six-pound morkie (maltese-yorkie) dog named Tyke joined their family. They all enjoy going on walks together and watching the Dog Whisperer. Jennifer teaches as the flute instructor at area Suzuki Schools in her evenings. In addition to music, Jennifer enjoys reading, sand volleyball, and attending Hawkeye games with Jon.Favorite bible verse: John 3:16 "For God so loved the world that he gave his only son that whoever believes in Him will not perish, but have eternal life."

Leslie Clauson
Director of Noah's Ark Preschool
Contact

Leslie joined the Noah's Ark Preschool staff in 2003 and became the Director in August 2005. She is very passionate about Noah's Ark and being part of this outreach ministry at Cedar Hills. Her favorite part of her job is connecting with families in the community. Leslie and her husband Jeff have been Cedar Hills members since 1999. They have two daughters, Carly and Kelsey. When they are not busy with sports, school, and church activities the family enjoys camping. One of Leslie's favorite Bible passages is Matthew 7:1-5.

Leah Carolan
Director of Worship & Media
Contact
Leah grew up in Central Iowa and joined the staff in 2007 after wandering around North America. She earned her Bachelor of Music Education degree from Simpson College in 2002, a Master of Arts in Christian Ministries & Worship from Briercrest Seminary in Caronport, Saskatchewan, Canada in 2007, and a Master in Church Music from Concordia University of Wisconsin in 2011. Prior to coming to Cedar Hills, she was on staff as a faculty assistant at Briercrest Seminary and co-lead the campus ministry program at Central College in Pella, Iowa.
She tries to enjoy running, drinks lots of bulletproof coffee, and writes silly songs for her kids. She and her husband, Rick have three rambunctious boys--Zadok, Isaiah and Samuel.