Want to learn how to develop a culture of service and intentionally within your family? Join us for the LEAD Conference on March 15, from 6-8pm. We will hear from speakers who live and work with some of the most impoverished and voiceless.
Weather Announcements
If bad weather hits, check here for any cancellations.
Join the young adult post-high crowd at Applebees every Friday night at 9pm for Real Talk.

Would you like to know how to connect to the church? Every second Sunday of the month at 9:35 AM and 12:05 PM you have an opportunity to discover your next steps. We gather by the fireplace in the lobby area.
Noah's Ark Preschool is a ministry of Cedar Hills Community Church and offers classes for 3 & 4 yr old preschool.
An opportunity for adult women to come together twice a month for fellowship, fun, and to be able to grow in your walk with Lord.
The next Open Table will be March 17. If you are new to Cedar Hills or have been around a while, young or old, everyone is welcome at Open Table!  It is a chance to connect with others at Cedar Hills over a meal.  Everything is provided - after the 2nd worship service, around 12:15pm.
Login to view calendar, church directory, answer volunteer requests, view giving statements, or update your member information.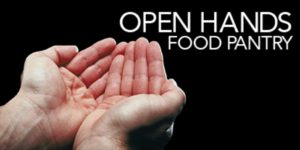 Open Hands Food Pantry
**Closed Mon. Feb. 11 due to bad weather**
The Open Hands Food Pantry is open to anyone in need of food assistance. While an ID may be requested, it is not required to obtain USDA foods. Patrons can visit once per calendar month.
Pantry Hours (as of 7.1.18)
Monday, 5-6pm
Wednesday 10am-12pm
Friday 10am-12pm
The Food Pantry closes on any major holidays and follows the Cedar Rapids school district for weather closings.  We occasionally close for funerals and other special circumstances at the church.  Please call ahead if you are unsure whether the pantry is open. 396-6608
Download the new Cedar Hills app. Use it for mobile giving, submitting prayer requests, the Bible, weather updates, and insider information.
Giving has never been easier. Setup your PushPay account today for your recurring or one-time gift.