Hospitality and Prayer
What would it look like to be both a prayerful and a hospitable people? Both prayer and hospitality are concrete examples of the greatest commandment, to love God with all your heart, soul, mind, and strength and to love your neighbor as yourself.
Both prayer and hospitality are open and attentive activities.
Prayer and hospitality mean openness to what guests and strangers bring to us. We receive a revelation from the guest which can change us and enrich our lives and open us to new possibilities and ways of thinking and living.
Openness makes us welcoming to God and others in our prayer and prayerful in our hospitality. There's no recipe it just takes practice. The natural posture of an upturned hand relaxed tends towards a fist. There is effort required for it to be opened. There is effort required to be openhanded towards God and to be openhanded towards others. It takes intentionality to nurture intimacy and ongoing dialogue with God, to learn when and how He wants us to respond to a need or a cry.
Prayer and hospitality also imply attentiveness to the other and to the needs of others, even anticipating their needs. We have to get out of ourselves and become interested in others.
Often our lack of hospitality is simply the failure to notice and acknowledge others and their needs, the needs of the larger world and the needs of those closest to us. Jesus models attentiveness. He noticed the sick, the excluded, the hungry, those that others passed by.  As we contemplate the ministry of Jesus, we are called to heighten our awareness of others so that we can carry on the ministry of Jesus.
It's true that our world is in a constant state of emergency. Jesus responded to crises by healing, feeding, and raising the dead, but the life of Jesus was also a lifelong conversation with His Father. His prayer and hospitality were connected. We are called to practice openness and attentiveness through the disciplines of prayer and hospitality.
When Jesus becomes more and more welcomed into the conversation of our thoughts and time is set aside for openness to God in prayer, we'll feel freer to be hospitable in heart and deed.
Again, there is no recipe here. Learn from Him. Make mistakes. Go back to Him again. Walk with Him through the day, and ask Him to point out His way and direction. Listen, talk, share, and most of all "welcome."
Gary Sager
Ambassador of Care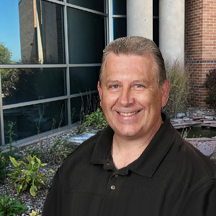 Did you enjoy this article? Did you laugh, cry or learn something new? Let Gary know.