Last month I asked, "If God decided to thoroughly and dramatically change something or someone in the Cedar Valley Corridor in which we live—what kind of change would God bring?"
What is your answer? What transformation would you like to see God bring?
I have lots of answers, but right this moment I am thinking about the transformation that comes when disciples of Jesus reach out with the love of Jesus to make another disciple. This might be a first-time commitment to follow Jesus or a disciple who is ready to grow deeper. Any growth that moves someone closer to Jesus, geeks me out.
This vision of transformation is actually back to the basics of why we do ministry. Our vision for ministry is to make disciples who make disciples in the everyday stuff of life. We are called to "go make disciples" (Matthew 28:18-20) and whenever that happens, I am thrilled. Here are some more basics of our vision that you might inspire us to press into the transformation that God wants to bring.
Basic Identity: WHO we are One church. Many places. Following Jesus.
 We are one church, a people loved by God (Luke 15)
 We exist in many places to share the love of God everywhere we go. (John 3:16)
 We follow Jesus in the everyday stuff of life. (Luke 9:23)
Basic Value: Our compelling WHY Because God loves us, we love.
 We Love God Deeply.
 We Love Ourselves Properly.
 We Love Our Neighbors Boldly.
"Love the Lord your God with all your heart, mind, soul and strength and love your neighbor as yourself" (Matthew 22:37).
Basic Calling: WHAT we do We make disciples who make disciples in the everyday stuff of life. (Matthew 4:18-20)
 Seek
 Love
 Grow
 Serve
Basic Strategy: the HOW
Large group celebrations (Corporate Worship) that gather us to give life. Small groups and Missional Communities that go out to spread life. Celebrations shape people through gospel-centered worship. Small groups create safe places for relational connection and missional expression. Life transformation and vitality emerge when disciples are connected in both small and large groups – breathing in and out. (Acts 20:20-21, MSG)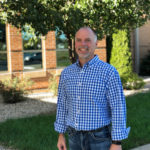 Go Make Disciples,
Pastor Kent