**UPDATE 6-10-20**
Thank you to everyone who participated in Caring Hands!  We are suspending further activity with the fund as all needs have been met and the need has greatly decreased.
---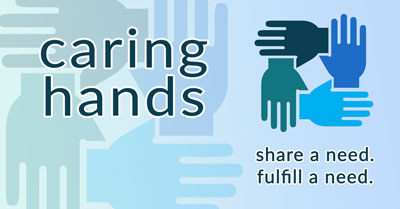 During this difficult time, a Cedar Hills team has been working on a project to help address needs within our Cedar Hills church community. If you are not in need, we ask that you consider helping us to meet the needs of the community.
You may fill out a form to fulfill a need of someone else, or fill out the form to express a need you or someone you know has.
To make a request for support, go here.  Needs may range in form from groceries delivered, supplies needed, childcare help, financial assistance… anything really!  This is for those who call Cedar Hills their home church.
To view current requests and offer help, view the list of current needs and then fill out this form here to express which need you would like to fulfill.
We are excited to see how God uses other in the Body of Christ to fulfill each other's needs!