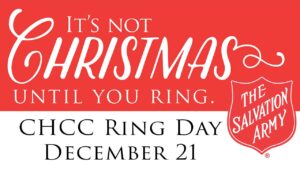 Hey Church!
Did you know you are awesome?
On Sunday, December 1, we filled up all but three of our 12 Salvation Army bell ringing shifts for December 21. Also, some CHCCers who couldn't ring the 21st signed up for another four hours of ringing on other days. We're up to 16 hours of bell ringing this year!
We still need to fill the 6-7 pm shift at Hy-Vee Johnson Avenue and the 7-8 pm shifts at both the Hy-Vee and the Fareway 16th Avenue for December 21.
Can you help? Contact Scott Drzycimski with the shift you want to take!