Backyard Hidden Treasure
Since we bought our first house about seven years ago, we've been getting to know the ins and outs of what makes our house and our property unique. At some point, we borrowed a metal detector from a family member and had fun wandering around our yard with various boops, beeps and low ding sounds.
If you've never played with a metal detector, I highly recommend it!
(Also if you've never seen the show "The Curse of Oak Island," watch it first and you'll be super motivated to go on your own treasure hunt around your yard. I hate to get you hooked, but season nine is kicking off now on the History Channel.)
So after watching these real-life treasure hunters wander around an island and discovering 400 year old treasures with their metal detectors, we were excited to explore our back yard.
What we learned:  we think our back yard used to be someone's burn pile. Not so romantic. Deep down below the surface, we've discovered lots of nails, old toy guns, tin cans, bottles, bottle caps, broken pipes. And ash. Lots of ash.
But the most beautiful discovery was an old china set—a teacup and saucer. They both suffered damage from the flames of a fire, but incredibly, I was able to scrub them down and superglue them back together until they looked restored.
Next, I headed online to see what treasure I had discovered! Perhaps they were super old and worth something! Perhaps part of a long lost set or some royal collection!
But—no. Just cheap china from the 1960s. There was a reason they got thrown out. No monetary value, no sentimental value—just someone's trash. They were probably buried just a few years before our house was built.
I took a picture of my little restored china and later deleted it. And after a few years of sitting in my cupboard, I threw the cup and saucer away. I discovered it had neither monetary value nor sentimental value to me.
God's work of restoration could not be further from my backyard discovery.
He doesn't need to search for us—He knows exactly where we are.
While we may feel buried and lost and forgotten and disregarded, His value for us is one exponentially greater than money or sentiment—He is our Creator! He formed us in our mother's wombs and knew exactly who we would be and are, even before time began.
He does not hide us away. And while it may seem we are covered and ash and dirty and broken, His Word says in Isaiah 61:3 that He, "bestows on [us] a crown of beauty instead of ashes, the oil of joy instead of mourning, and a garment of praise instead of a spirit of despair… a planting of the Lord for the display of his splendor.
Did you catch that last part??? Even after He fixes us and makes us beautiful, He plants us to display His splendor! Not like me and my restored china that I hid away in the cabinet until throwing it — He displays us, His restored people, to His own splendor.
It's kind of like that old saying—if God had a refrigerator, He'd have your picture on it.  But more like 'if God had a china cupboard, He wouldn't just have you stored on the shelf inside collecting dust—He'd have you in the most prominent place in the middle of His banquet table on top of a beautiful place setting, all cleaned and shined and ready to be adored over by all in attendance.
God's restoration is for. His. Splendor. And He takes great delight in restoring His people.
Leah Carolan
Director of Worship & Media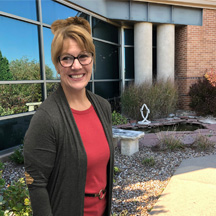 Did you enjoy this article? Did you laugh, cry, or learn something new?  Let Leah know.