Small Groups Are Scary
Small groups are scary.  At least that's what I thought most of my life as I skillfully did everything I could possibly do to avoid being a part of one.
They gave me visions of sitting criss-cross applesauce in small circles, singing kumbaya, with forced sharing of intimate stories and lots of crying.  Not my thing.
It wasn't until I arrived in Cedar Rapids in my late 20's that I made any real effort of actually trying one.  I'll be honest, the first couple I tried to be a part of eventually flopped, ended, or disintegrated into messes, which just cemented in my head even more that they weren't worth my time.
So with a not-worth-my-time attitude and my propensity towards being as introverted as one can be,  I thought my time in small groups was over. JUST NOT GOING TO DO IT. No, no, no, no, no. No Thank You.
Until last year. I tried again. This time, it was a Bible study group of women. I only joined it because my husband was a part of the same Bible study organization, as were my kids—and even though each met on a different day, we'd be studying the same curriculum and daily questions together. So weighed down by sheer mom-guilt alone, I decided I should try it.
This particular group was super-structured, and involved intense, weekly individual homework. It wasn't too big, or too small. We (15 ladies) had a set timeframe of starting and stopping, set number of questions to answer, and a set number of minutes for "socializing" which was great for my general let's-just-dig-in-the-Word-and-get-on-with-it mindset. You know what?? I LOVED IT!!!!  Turns out, I just do really well with structure. Like, SUPER structured. No sugary snacks, no coffee time, just a tiny bit of socializing, and lots and lots and lots of Bible study in and out of the meeting.
This revelation has been huge. Small groups are scary when they are a structure that doesn't fit how I'm wired, but there are so many out there! And so many options!
So if you have given up on them, or are weirdly wired like me and just need structure to function, can I encourage you to try again? And maybe again? And then maybe one more time? And maybe once more after that?
Leah Carolan
Director of Worship & Media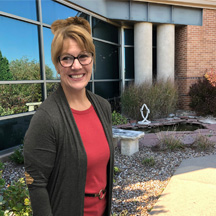 Did you enjoy this article? Did you laugh, cry, or learn something new?  Let Leah know.