Spring Cleaning: Heart Check and New Beginnings
Who else loves to spring clean? I'm sure I can't be the only one. When I think of spring cleaning, I cannot help but think of new beginnings, fresh starts and the sweet aroma of flowers. This time of the year gets me excited, due to how organized I tend to get. One of my favorite ways to spring clean is to reorganize my closet and replace my winter clothes with spring clothes. It reminds me of the saying 'out with the old and in with the new.' My mom and I enjoy organizing the fridge and keeping storage spaces in order. There is just something about the spring that gets us in the mood to become intentional about cleaning. Spring reminds me how beautiful change can truly be!
Funny how it can become easy to spring clean around our houses, but not take that same approach when it comes to our spiritual life. Let me ask you a real question: When was the last time you did some spring cleaning in your heart? Maybe there are habits you need to cut off and replace or forgiveness for something that you need to let go of. All these can make it difficult to experience God's goodness in this new season of life. Isaiah 43:18-19 says, "Forget the former things, do not dwell on the past. See I am doing a new thing! Now it springs up; do you not perceive it. I am making a way in the wilderness and streams in the wasteland." God wants to do a new thing with you this spring. The bigger question is will you make room for Him?
So one may ask, "How and where do I begin?"  Well, let us simplify it and incorporate some of the things you may enjoy or are familiar with.
Prayer – Asking God to reveal to you the areas that might need a deep cleaning. (Psalm 139:23-24)
Enjoy nature; go on a walk or hike. (Psalms 89:1)
(Habakkuk 2:2)
Talk with someone; there is power in community. (Proverbs 15:22)
Dwelling in the Word. (Hebrews 4:12)
Here are a few worship songs to check out:
Make Room by Community Worship
Defender by Upperroom
Healing Rain by Michael W. Smith
Frankline "Franky" Tshombe
Children's Church Leader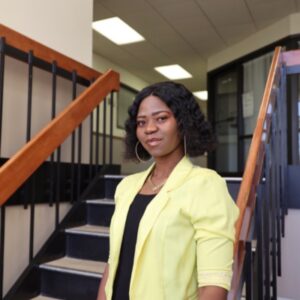 Did you enjoy this article? Did you laugh, cry, or learn something new?  Let Frankline know.