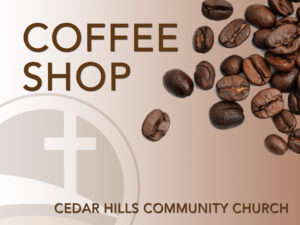 Jon & Jennifer Wagaman started the Coffee Shop here at Cedar Hills 10 years ago after a positive experiencing connecting with others through Orchard Hill Church's Coffee Shop in Cedar Falls. We are praying for this to continue, but other than one shift March 8, we have no volunteers signed up for any shifts. We might have to close the Coffee Shop, but after brainstorming, we thought of having a Coffee Shop Training Sunday!
It's easy and fun, and will take only about an hour and a half of your time. Pick 1st or 2nd shift (see times below) and come for training!
While serving in the Orchard Hill coffee shop as newlyweds, Jon and Jennifer were able to connect with others in their church and build new relationships that hadn't had prior to being married.  Now with their hands full with 3-month old daughter, Mira they are praying for more volunteers to be able to keep the Coffee Shop open on Sunday Mornings.
This Sunday – Feb 23 – Stop in to work alongside Coffee Shop volunteers to decide if this is an area for you. Contact Jennifer so we know to expect you.  All attendees will receive a Cedar Hills coffee tumbler.
What does serving look like?
First Shift: 7:30a-8:30a, and 9:30a-9:40a
The first shift is two-fold. 7:30am-8:30am, they prepare the pots of coffee and set-up the cups, donation boxes, and supplies.  They turn on the Cappucino/Hot Chocolate machine so that it is ready to go for after the service. Immediately after first service 9:30aa-9:40am), the first shirt team helps for approx. 10 min the transition to the second shift.
Second Shift: 9:30a-11am
The second shift replenishes the pots of coffee after first service and serves cappuccino and hot chocolate. During the Sunday School hour, there is not as much to do so there is about an hour of down-time. It is still possible to go to Sunday class, leaving just a few minutes early to make sure all the coffee is replenished and ready to go before second service. Then, once the second service starts, the second shift washes all the pots that are empty (leaving approx. 3 or 4 out.)
Who can serve?
Adults of any age! "Older" children are welcome to help; the age to be "old enough to help" is up to the parents. Coffee/Cappucino/Hot Chocolate is VERY HOT.