Annual Report – Special Edition
The dominant metaphor for salvation in the New Testament is "the family of God." St. Paul writes, "You are no longer strangers . . . but members of God's family.  Together, we are his house, built on the . . . cornerstone of Christ Jesus himself" (Ephesians 2:19-20).
This family is not defined by human blood lines, but by the blood of Jesus. It's a diverse family made up of young and old, rich and poor, male and female, black and white. Christ's sacrificial love for us on the cross shapes our relationships and transcends our differences. Because we experienced God's mercy, we are able to live patiently and mercifully with each other.
This sort of community is not an ideal we have to attain by our own efforts. It is a gift from God in which we are called to participate. In spite of our messed up lives, we hold on to each other in love because Jesus showed us that God never gives up on any of His adopted sons and daughters.
As Pastor of Care, I get to witness many examples of this togetherness and mutual care. As we experience the tragedies of illness and death, I see you comforting one another. When disagreements arise, I see you finding a way to live at peace.  When troubles overtake us, I see you bearing each other's burdens. When we hurt each other, or feel broken down by the cares of life, I see you forgiving and encouraging each other.
This kind of community is costly.  It requires dying to self and making room for God's unconditional love to reign in our hearts. But denying ourselves is also part of the gift that only Jesus can give us! And through these sacrificial "one another's," shaped by Jesus' love on Calvary, we experience the healing presence of Jesus in each other, the gift of salvation.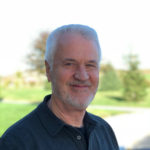 Alan Crandall
Pastor of Care