JUNE 2020
YOUTH MINISTRY UPDATE
Feeling frustrated lately? The list of frustration I have felt and observed in the past week is great. Frustrated about balancing work with being home with kids. Struggling with online classes, more work, and changing expectations. Frustrated by the loss of things important to us, even if we know they are trivial, like sports season, clubs, and activities. Upset about all the unknown in our lives. Frustrated that we are opening too soon or not soon enough. Confused about how people look at the same data, but come to contradictory conclusions.
Disappointed that something like public health during a pandemic could get so politically divided. So what do we do with all these emotions?  Emotions are human.  We cannot help but experience them. However, how would Jesus want us act in times like this?  How should we, as Christians, respond to these emotions in a Godly way?
We are not controlled by our emotions.

Walk by the Spirit, not the flesh
"Now those who belong to Christ Jesus have crucified the flesh with its passions and desires.  If we live by the Spirit, let us also keep in step with the Spirit." Galatians 5:24-25

We have a different perspective.

Tough times grow our faith and spiritual maturity
"Consider it a sheer gift, friends, when tests and challenges come at you from all sides. You know that under pressure, your faith-life is forced into the open and shows its true colors. So don't try to get out of anything prematurely. Let it do its work so you become mature and well-developed, not deficient in any way." James 1:2-4 (Message)

We trust God's timing and plan.

Genesis 45:4-8 – Joseph's suffering was a part of God's redemptive plan
It is a painful pruning process when God cuts away our hopes and dreams that do not align with His. Our frustration sometimes comes when we realize we have less control than we imagine. We are frustrated when we must set aside our plans, and submit to His. Trust God, though, His plans bring with them the promise of abundant life!
"The thief comes only to steal and kill and destroy. I came that they may have life and have it abundantly."~ John 10:10
Trust God, even when you are feeling frustrated. His plans bring with them the promise of abundant life!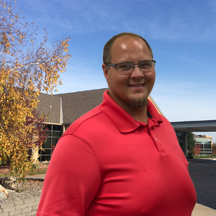 Steve Poole
Director of Youth & Young Adults

What did you think of this article? Let us know.