Children & Family Ministry
Cedar Chips – February 2020
Have you ever been amazed by the wonder of a child? How cheerful their faith seems to be? Or maybe it is how quickly they can absorb what is being taught or modeled for them? All of which are very true, our children are incredibly insightful and relentlessly curious. While the answers are not always hitting the mark, or maybe not even on topic for that matter, but the effort alone is palpable. The beauty of it is, that even if they're wrong, kids will never stop trying to find the "right answer" or the "right way."
Unfortunately, there are record numbers of teenagers and young adults that are leaving the faith in the 21st century, why? While there are a myriad of reasons, the most pressing and practical is this: our churches have continually sectioned-off
(intentionally and unintentionally) the various generations from worshipping together. To be clear, it is a very good thing that as a church we are tending specifically to the hearts of our youngest members. But we can't lose sight, does our "ends justify our means?" What I mean by that is threefold: 1) While it's common sense, children and youth don't stay that way for long,
and thus must transition into something at some point; 2) How will our children learn to participate in a corporate worship service if they never get to experience it for themselves; 3) Children tend to learn best from having something modeled for them.
So then, what can we do to help our children? How about a resolution for the New Year? Keep it simple and start small. Designate one Sunday a month for your whole family to worship together for the entire service. That's step one. Step two—talk about it! Ask your children not only about what they learned, but what they saw and how they felt about it. Even if they spent their time in "la-la-land." If they know you'll consistently be asking, they'll start paying attention. There is no time like the present to begin setting the foundation for a lifetime of faith.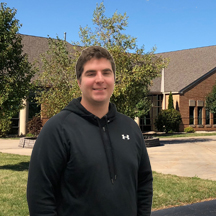 Kyle French
Director of Children & Family Ministry