From the Consistory – News and Notes
Our vision as a congregation is to make disciples who make disciples in the everyday stuff of life so that every man, woman and child in our community has a daily encounter with Jesus in word and deed.
Our goal as Consistory is to work toward alignment of all our staff and programs with this vision. When Jeremy shared his calling to move to Allison to become the pastor at Trinity Reformed Church, we started our discernment process for seeking a new Director of Youth and Young Adults.
The Search team processed dozens of candidates, interviewed four, and recommended two candidates
to meet with our congregation, youth, parents and youth sponsors. After processing feedback from the
candidate visits as well as references from the candidates we concluded that we had two excellent candidates.
Both candidates loved the Lord, had a passion for student ministry, had successful experience leading and growing student ministries, have built and led ministry teams, communicated well publically, and have developed solid biblical/theological foundations for ministry. Both candidates were well qualified!
When we discussed vision alignment, discipleship strategy, and chemistry we agreed – unanimously – that Steve Poole was the best fit for our ministry at this time. Consistory unanimously agreed with this recommendation and offered Steve the position.
We are very excited for the gifts that Steve brings to ministry. Here are a few of the qualities that led to our decision:
 Steve has a highly relational approach to ministry.
 Steve's focus on disciple-making, mentoring, and small groups fits closely with our vision.
 Steve has a humble, curious, and teachable spirit.
 Steve is youth culture savvy and also in touch with the latest youth ministry trends.
 Steve has current and past connections with RCA people, events, and culture. (Rocky, Power Connection, Central College, Adventure Life Reformed Church, Lakeview Camp, etc.)
 Steve's camp experience offers unique opportunities and also represents experience working with younger children.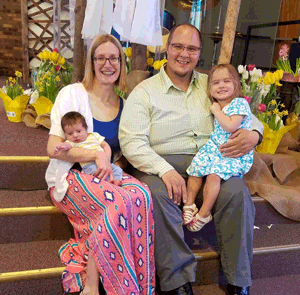 Please pray for Steve, Cathy, and their children, Abby and Christopher, as they relocate to Cedar Rapids. Steve will begin his ministry here August 11! Thanks to all who helped in this process and thanks for your prayers!!! God has blessed us!