Hate Is Strong and Mocks the Song
You don't have to watch TV, listen to the radio, or surf social media long to understand "hate is strong".  Coverage of the war in Ukraine, hate is strong. Political diatribes villainizing the other party in the aftermath of the midterm elections. Hate is strong! Stories or statistics of human trafficking. Hate is strong.  The latest mass shooting in Virginia. Hate is strong. A sign saying, "My neighbor is a Karen." Hate is strong. Earlier this month Cathy and I went to a fundraiser for Shirley's House of Hope, a faith based domestic violence shelter. We heard testimonies about how hate was strong in the lives of these women. However, these testimonies all shared hope. The women encountered the hope of Christmas at Shirley's. The Christmas song goes "for hate is strong and mocks the song of peace on Earth, good will to men." Peace on earth, good will to men. The women told stories of how they found peace in Jesus.  Not just peace from the violence in their lives, but "Shalom."
"The ancient Hebrew concept of peace, rooted in the word "shalom," meant wholeness, completeness, soundness, health, safety and prosperity, carrying with it the implication of permanence." (https://jewsforjesus.org/publications/inherit/what-is-shalom-the-true-meaning)
They found wholeness, health, and prosperity in counseling and through relationship with Jesus.  This is the peace on earth we celebrate during the advent season. It is a holy peace that we cannot attain on our own, or earn by our good deeds. This Shalom comes from abiding in Jesus, who abides in the Father.
Peace, lasting peace, transcends the situations and flaws of our own personal lives because it doesn't come from us. It comes from God. The prophet Isaiah wrote, "You will keep in perfect peace him whose mind is steadfast, because he trusts in you. Trust in the LORD forever, for the LORD, the LORD, is the Rock eternal" (Isaiah 26:3–4). (https://jewsforjesus.org/publications/inherit/what-is-shalom-the-true-meaning)
Trust in the LORD!  Trust in Jesus!  When Jesus is talking to His disciples on the night of His arrest, He promises the Holy Spirit will come upon them to equip them. Also, He teaches that they are to abide, like vines in the branch. In between these teachings, in John 14:27, Jesus promises His peace to the disciples.
"Peace I leave with you; my peace I give you. I do not give to you as the world gives. Do not let your hearts be troubled and do not be afraid" (John 14:27).
So, during this advent season I encourage you to turn off the TV. Unplug from social media. Put away your "Karen" signs. And abide in Jesus. Encounter the prince of peace, who promised to leave His peace with us.  Meet Jesus. Talk with Jesus. Seek peace with Jesus.
Steve Poole
Director of Youth & Young Adults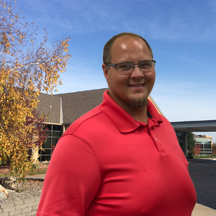 Can you name the carol?