2019 was a year of transition for Journey Student Ministry.
Jeremy Van Genderen wrapped up Spring Ministry at Cedar Hills in May, and headed off to Allison, IA to
assume the lead pastor role at Trinity Reformed Church. Jeremy set a great foundation for volunteers
to continue Youth Ministry over the summer, including Lead the Cause evangelism and discipleship training in Chicago. The search for a new Director of Youth and Young Adult Ministry culminated in August with the hiring of Steve Poole!
Mission Statement:
Students transformed by a growing relationship with Jesus.
Key Elements:
1. Gospel-minded
2. Discipleship-based
3. Intergenerational relationships 5:1
What can you do?
Teenagers today need to know they belong to a community that is passionate about loving people.
Join the leadership team, mentor a teenager in their faith, attend some of their events to cheer them on,
or invite youth to work beside you in your ministry.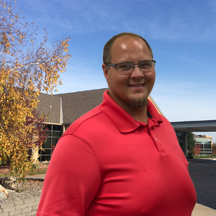 Steve Poole
Director of Youth & Young Adults