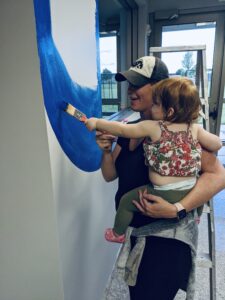 Our "Grow the Good" campaign included a fresh coat of paint for the church.  We are quickly nearing the finish of the entire painting phase. Thank you to everyone who was pitched into help!
The final painting weekend is fast approaching & we need YOU!! (& any of your painting friends!)
We will have a VERY fast turn around the weekend of July 24-26 for two preschool rooms at the west end of the church & the attached bathrooms!  The summer session of preschool is ending and we plan to get all their rooms repaired and painted over that weekend.
Let's gather a painting army for one last painting party! Please email me below or text me at 641-420-1661 to volunteer!
Mel Dahm