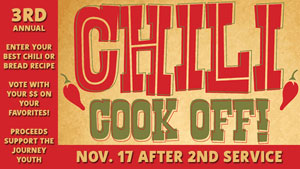 The weather has finally turned cold and Fall is in the air!
Now's the time to break out your favorite Chili recipes, bake some homemade bread, and bring them both to the 3rd Annual Chili Cook-Off.
Sunday, Nov. 17 our best cooks will be competing for the coveted titles of "Chili Extraordinaire" and "Bread-Tastic Baker" for the 2019 year, competing for the Golden Ladle Trophy.
The rest of us will bring our cash and throw it in the baskets of our favorite batches of chili and bread.  Dollars, quarters, spare change, whatever you'd like. After voting (and enjoying samples of each chili and bread) you'll be able to enjoy a full bowl (or 2 or 3) of your favorite recipes.
All the funds go to support the awesome ministry of our Journey Youth (middle and senior high students)