Physical Connection Leads to Heart Growth
This year of connection has been inspiring. Some of the most beautiful moments that were relayed to me from small group leaders in the church are moments that cannot yet be shared. That's because some of those sweet moments are a response by individuals to the Holy Spirit's prompting to draw nearer to God, even if the person does not yet know Jesus.
In small groups all across our church, there are a number of people that are just now feeling safe enough to ask questions about God. Tough questions that have kept them from God most of their lives.
For some, they are opening up to their small group members about things that have been hidden from most people in their lives.
For others, they are coming to a new perspective or realization that what they once held dear is no longer so important in their life. God is working in their heart. As their perspective changes it is like scales falling from their eyes, and underneath the Truth is starting to take shape in their heart.
Like the Grinch, I have a larger heart this year because of what I've seen and heard from our small group leaders.
Merry Christmas,
Lindsey Ungs
Connection & Communication Architect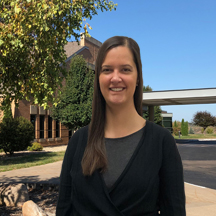 Did you enjoy this article? Did you laugh, cry or learn something new? Let Lindsey know.