"I Am the Vine, You Are the Branches"
"I am the vine, you are the branches. Whoever abides in Me and I in him, he it is who bears much fruit, for apart from Me you can do nothing." (John 15:5) Jesus told the allegory of The Vine at the Last Supper. He promised to make us fruitful. When Jesus abides in us, and vice versa, the result is the interpenetration of his life with ours. But how does this actually work?
Jesus showed his disciples what "abiding in him" means by washing their dirty feet. Jesus asked, "Do you understand what I have done? . . . I have given you an example, that you also should do just as I have done to you" (John 13:3-16). We are inspired to serve each other "just as" Jesus served us.
Jesus teaches that we "will do the same works" he did–because "if you ask anything in my name I will do it" (John 14:12-14). Note the source of the disciples' Christ-like deeds: Jesus will do it!
"This is my commandment, that you love one another as I have loved you. . . . You did not choose me, but I chose you and appointed you that you should go and bear fruit and that your fruit should abide . . . ." (John 15:12-16)
It's because we are chosen by Christ that we can imitate him. Disciples have only one task: to abide in the vine, obeying Jesus. Whatever we need to love one another will be given to us. Jesus' called his first disciples to learn the Christly lifestyle by being "with him." Today, Jesus reveals himself through you and me. Our church fellowship is where we "abide" in the vine and learn the ways of Jesus.
"They'll know we are Christians by our love."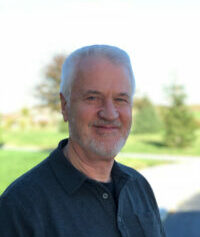 Alan Crandall
Pastor of Care