Global Leadership Summit Worship Service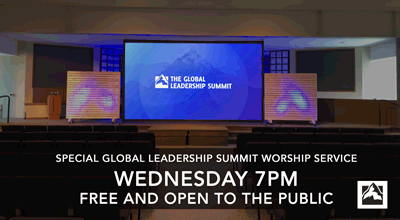 Join us for a pre-Summit worship gathering Wednesday, August 7 at 7pm.  The worship service is part of the Global Leadership Summit kick-off, and is free and open to the public. You do not need to be registered for the Summit to attend.
The worship will be streaming live out of Willow Creek church in Chicago, IL.  Cedar Hills is blessed and excited to be a host site for this year's Global Leadership Summit – August 8-9.
If you'd like to attend the Summit at Cedar Hills, you can register online.  Cedar Hills attendees are encouraged to contact the office for a special promo code.