Easter Worship Then and Now
Easter of 2020 was difficult for many all over the world. The church building was empty and the actual church (the people) were fumbling around trying figure out how to share fellowship and encouragement while not being together in person.
Those of us who are leaders in the church found ourselves in the church building, standing on a platform speaking to empty chairs and a video camera. Without a congregation to speak to face to face, it was a challenge to believe that anything we shared on the platform mattered.
Easter of 2020 found us as a church staff reeling from the changes in the way we gathered and sharing a simple meal of ham, rolls, and deviled eggs in the gathering space.  It was a far cry from Easter of 2019 and involved much lamenting on my part.
The people (paid and unpaid) that showed up on in those first weeks and months became linked in our efforts to continue to share the Good News despite having to navigate constant changes.
Thankfully Pastor Kent had hope and developed a plan with the consistory. Thanks to the leadership of this church body, we were able to function with a core group of courageous ministry leaders and volunteers to make it to August of 2020, also known as The Derecho.
As bad as the Derecho was, it also was a time of people remembering that people matter. It was as if people came out of their own homes and remembered that other people existed and had needs as well.
It was as if our whole city took a breath and then used the strength from that breath to chop wood and patch roofs.  It was a beautiful group of people that came together to serve the church body and the community at large. This was a new level of fellowship we hadn't seen since March.
Then, in fall of 2021 we saw a whole new wave of those interested in meeting together as a body of Christ. This was a new level of fellowship and was certainly encouraging to me. New faces started to walk through the doors of our church building. Others decided to become members. People who hadn't been around in a year and a half decided that being together in person was worth the risk.
And that brings me to Easter Sunday 2022. As I looked around on Easter, it brought tears to my eyes. What a beautiful sight to behold! The worship space was filled and some services were better attended than Easter of 2019. What a joy to see the restoration God has brought to our local church body two years later.
Lindsey Ungs
Connection & Communication Architect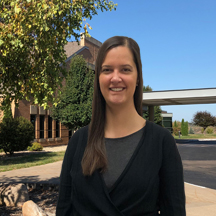 Did you enjoy this article? Did you laugh, cry or learn something new? Let Lindsey know.