I'm a Mess and so are you
Cedar Chips – February 2020
We all have a public life, a private life, and a secret life. Authentic faith and sanctification, becoming more Christ-like, is about integrating all three of these lives. Many of us, myself included, have been in a place where all three lives are at odds with one another. Years ago, the thought of allowing someone to move in with me would have caused great distress. A roommate would have seen clearly that my private life was not consistent with my public life.
As I have been drawn towards Christ, my three lives have become more aligned. This leaves more room for gratitude and less scrambling to cover up the messiness that exists. This allows me to invite people into my home as needed, for a dinner, or for a month's stay. This year we've hosted two families (each having two or three kids) into our home, for a month or more.
This is not a result of some great "cleaning up" of my messiness. Perhaps the opposite, it's that I'm more willing to expose my messiness (my sin struggles) in my public life. Because of this, I've allowed brothers and sisters in Christ to speak the healing Gospel into my mess. Hopefully, the families that have lived with us (and have seen my private life in my home) are less than
shocked that I'm a mess.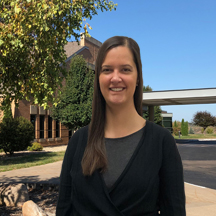 Lindsey Ungs
Connection and Communication Architect