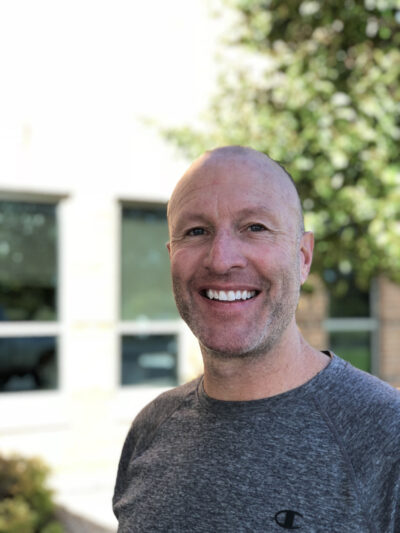 We are deeply saddened by the news that our friend and Cedar Hills staff member Paul Donnan has passed away.  Please pray for peace and comfort for his family and friends as they grieve his death. Paul was the Director of Maintenance & Operations at Cedar Hills.
The visitation will be Thursday, Feb. 14 at 9:30am, followed by the funeral at 11:00am. A brief burial service at Cedar Memorial will follow the funeral, and then a luncheon will be served back at the church.
(from cedarmemorial.com)
Paul D. Donnan, 52 of Cedar Rapids passed away at his home Sunday, February 10, 2019. Services at 11:00 AM on Thursday at Cedar Hills Community Church. There will be a visitation at Cedar Hill Community Church on Thursday from 9:30 AM until service time at 11:00 AM. Pastor Kent Landhuis will officiate. Burial at Cedar Memorial Park Cemetery. Cedar Memorial Park Funeral home is in charge of arrangements.
Survivors include two sons, Grant and Michael, his mother Sally Donnan all of Cedar Rapids and a sister Lisa (Pat) Kress of Hiawatha. He is also survived by a niece and nephew Courtnie and Connor Bartosh, and many friends. He was proceeded in death by his father.
Paul was born on June 8, 1966 in Cedar Rapids the son of Douglas and Sally (Day) Donnan. After graduating from High School, Paul graduated from the California Police Academy. He was a detective for the Los Angeles Sheriff's Department where he was a member of both the Antelope and Lancaster Gang Units Tasks Force. Because of Paul's work he received a Superior Dedication Award and an Outstanding Achievement Award for his work with the gang units. After 11 years at the Sheriff's Department he returned to Cedar Rapids in 2000, and became the Director of Maintenance and Operations at Cedar Hills Community Church. Paul and Michael especially enjoyed the time they spent together plowing snow at the Church.
While in Cedar Rapids, Paul implemented the Community Service Program for individuals who were incarcerated.
Paul enjoyed the outdoors, baseball, and time spent with his family and many friends. Paul was always willing to give a hand to anyone who need help.
Paul will forever be remembered as a wonderful and loving father, son, brother and friend whose memory will be cherished by all who knew and loved him.
A memorial fund has been established.
Paul's Staff Bio (cedar hills Website):
Paul grew up in Cedar Rapids. He began working for the church in 2003. Prior to that he was a Detective on the Los Angeles County Sheriff's Department. His parents, Sally and Doug, joined Cedar Hills Community Church in 1961.When not spending time with his two boys or at church, he enjoys the outdoors, baseball, and gardening. He is passionate about the commandment "Love your neighbor." His favorite Bible verses are those that declare and describe Heaven.