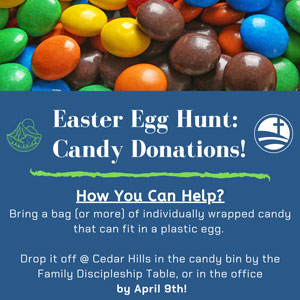 It's that time of year!  Easter is quick approaching and we're planning another great Easter Egg Hunt for Saturday, April 11 a 9am.  The egg hunt is for ages preschool to 5th grade and is free and open to the public. Bring your own basket!
Help us with our Egg Hunt supplies and donate a few bags of candy! Just make sure they are individually wrapped and can fit inside a plastic egg (otherwise, the office staff has to eat the ones that don't make the cut!)
Drop off at the bin near the Family Discipleship Table or to the church office anytime before April 9.