Worship Ministries—Jump in!
If you have ever been interested in joining a worship ministry music team, this is the time of year to jump in.
Sanctuary Choir: This group sings about every three weeks in the 8:30 AM service. Choir is open to anyone high school aged and above who can read music (primarily SATB). Choir rehearses on Wednesdays, 6:40 PM in room 132A and will begin rehearsals August 21. All current choir members and any interested in choir are invited to sing at the Fall Kick-Off worship services August 18. The choir will sing along with the hymns at 8:30 AM service. Practice is just prior to the service at 8 AM that day. Choir is directed by Stuart Geiger.
1st Service Worship Teams: These SATB groups rotate and sing/play one week a month. Teams rehearse on Wednesday nights at 6 PM, prior to the Sunday they sing. Singers must be able to read music, as we sing parts on the hymns. We currently have openings for tenors and sopranos, but all are encouraged to apply, including pianists and organists!
2nd Service Worship Teams: These teams are a mix of singers and instruments (guitars, piano, keys, bass, drums, and occasional string instruments). Music at this service is led from chord charts, so some 'playing-by-ear' is required, and great for those who don't read music. To participate in 2nd Service teams, the first step is to join a Worship Jam. (see below)
Worship Jams: Jams are open to all musicians and are held quarterly throughout the year. We pack all our voices and instruments on stage at the 2nd service and lead as an entire team! The next Jam is Wednesday, August 14 at 6:30 PM and will lead the 2nd service worship on Kick-Off Sun, Aug 18. To express interest in worship ministries or for more info, contact Leah.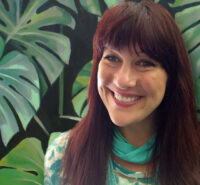 Leah
Director of Worship & Media