We started a missional community (MC) four years ago with friends. We got the idea from our pastor that we should consider meeting regularly with others for the purpose of being discipled.
We were friends with the other couple, but not best friends. We had been getting together infrequently, prior to starting the MC. The following is what our evening looks like, when we meet every other Thursday.
We take turns coming to each other's homes. The host cooks a meal for all of us and we join up around 5:30 pm to eat dinner together. After dinner, the gals sit and talk or go for a walk. The guys do the same around the pool table or in the backyard. The kids roam and play. After a while, we put the kids to bed. Sometimes we put a kid
in the basement bed or the laundry room (in a pack-n-play). We make the space as needed.
Then the four of us head to the living room to have some dessert and coffee. We take time to go over the chapter we are reading or the video we are watching. We share prayer requests, which is an essential way to share in each other's lives. We've been through many ups and downs together including starting new businesses, miscarriages, work promotions, and deaths of family and friends.
This MC has been a core reason that I have moved forward in spiritual maturity. Becoming more Christ-like (than we once were) is the goal for our MC and the MC has been one of the best ways to see this come to fruition.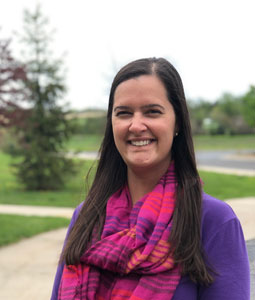 Lindsey Ungs
Connection and Communication Architect